Meet the Chef
David A. Hernandez
Executive Chef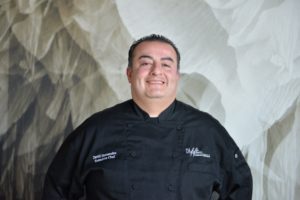 A former member of the U.S .Marine Corps, Executive Chef David Hernandez brings new energy and creativity to 51fifteen Cuisine & Cocktails.
After a year at the Art Institute of Houston, Chef David began his culinary career working the line at Bossa Latin Café but was quickly promoted to sous chef. A dedicated employee at McCormick & Schmick's Seafood Restaurant for 12 years, Chef David found success at their Dallas and Houston locations.
"I'm very excited to be at 51fifteen," says Hernandez. "The restaurant is beautiful, and my goal is for my food to not only taste amazing, but also reflect that aesthetic. I want people to keep coming back for more."
Hernandez' menu will showcase fresh ingredients, allowing the flavors of high quality meat, poultry, seafood and produce to shine, with simple preparations and elegant presentations.
While accommodating the tastes of the loyal lunch crowd of Saks Fifth Avenue shoppers and associates, the chef also aspires to introduce a broader swath of Houston's food savvy diners to 51fifteen, its' refined dining atmosphere and the extraordinary dinner menu.
"Our Daily Specials will be creative but substantial, and I'll continue to provide the best seafood and salads that have become must-haves with our regular customers," says Hernandez. "Our setting is very elegant and fast becoming a popular event for many of the fashion designers in town, as well as other special events including wedding rehearsal dinners, receptions and more. The catering side will keep us very busy."
As a highly skilled culinary professional, Chef Hernandez brings integrity and professionalism to 51fifteen Cuisine & Cocktails. He prides himself in providing a high standard of service in addition to pitch-perfect menu execution.